Gift and Woman Complements - Angel callers, silver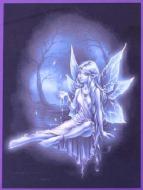 Angel callers, silver: "Sometimes at daybreak, when we don't really know if we are... awake or asleep, we feel presences, whispers, flutterings, content laugthers, even we could feel some undefined brush in our cheek; There are the angels. They come and listen to our secrets... But if you lost them in your stressed life, ¡Call them!, they are just waiting that you call them with an soft clinking..."

At Birdikus you will find a great collection of angel callers. Silver. Come on to our shop at Barcelona and choose your angel caller!!!